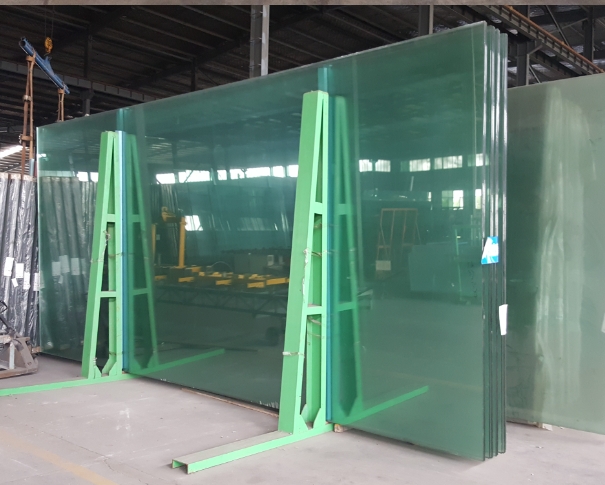 Benefits of an A-shaped Frame
1. Stability: The A-shaped design not only adds stability but also allows for balanced storage on both sides, effectively distributing the load.
2. Safety: With its positioning rods and quick-release locking mechanisms, this equilibrium ensures that glass panes remain securely anchored, eliminating the risk of shifts or movement during handling.
3. Safety Measures
The trolley is outfitted with rubber anti-slip and cushioning pads at all contact points to further protect the glass. These pads not only keep the glass from slipping, but they also provide a safe, cushioned point of contact, protecting it from damage.
Solutions for Handling
1. Casters: The A-Frame Trolley's heavy-duty casters at the base allow for easy movement within factories or warehouses.
2. Forklift Access: It features dedicated forklift paths, ensuring easy and safe transportation of the entire trolley in scenarios where forklifts are required.
3. Hoisting: The top-ring design allows for compatibility with transportation lifting equipment.
Design of Modular Structures
The trolley's modular design allows it to be easily disassembled when not in use, saving space and lowering transportation costs. In essence, the A-Frame Trolley is a comprehensive glass pane management system that ensures the safe, effective, and efficient handling and storage of glass. Whatever your requirements are, it provides a strong, adaptable, and dependable solution.
A-Frame Storage Rack Applications and Features
It has an A-frame structure with a base, triangular braces, top beams, intermediate beams, and positioning rods. This design ensures stability, especially during transit.
Because glass is so delicate, maintaining stability is critical when transporting it. The symmetrical dual-sided design of the rack allows for storage on both sides, adding a layer of balance. Furthermore, the positioning rods are strategically designed to keep items in place during movement, eliminating the possibility of sliding or colliding.
The rack, which is made of premium carbon structural steel pipes and channel steel, not only provides the necessary strength and durability but also ensures longevity. Furthermore, the electrostatic spray finish on the product's surface provides additional wear and corrosion resistance.
The true innovation, however, lies in its adaptability. It is not only a storage solution, but also a transportation solution. Its strong caster wheels on the bottom and lifting ring design on top allow for easy movement within factories or warehouses. Furthermore, its modular design allows for easy disassembly when not in use, resulting in maximum space savings."
"In conclusion, the A-Frame Storage Rack is a versatile solution designed for the modern manufacturing and storage sectors, with a keen focus on safety, stability, and flexibility."
How to Construct a Steel A-Frame Glass Rack
Making a steel A-frame glass rack is an excellent way to store and organize glass panels.
Whether you are a professional glazier or a DIY enthusiast, this project is manageable with basic welding skills and tools. Here are the steps to follow:
Materials:
4 steel pipes (2 inches in diameter and 8 feet long)
4 steel plates (6 inches x 6 inches)
Welding machine
Welding rods
Measuring tape
Marker
Safety equipment (gloves, goggles, etc.)
Step 1:Steel Pipes Must Be Measured and Marked
Measure and mark the steel pipes at 2-foot intervals with a measuring tape and a marker. These marks will indicate the locations of the steel plates that will be welded to the pipes.
Step 2: Cut the steel plates
Cut four steel plates 6 inches by 6 inches each. These plates will serve as the foundation for each A-frame.
Step 3: Weld the steel plates to the pipes
Weld each steel plate to the marked points on the steel pipes using the welding machine and welding rods. Check that the plates are straight and secure.
Step 4: Weld the A-Frame Shape
Position two of the pipes with the welded plates in an A-shape with the plates on the ground. Weld the top of the A-shape together at the midpoint where the two pipes meet using the welding machine. Repair this process with the other set of pipes.
Step 5: Weld the Crossbars together
Cut two steel pipes to the desired length for the A-frame crossbars. The glass panels will be held in place by these crossbars. Weld the crossbars between the two A-frames into place at the desired height.
Step 6: Include Stability
Cut and weld two smaller steel pipes diagonally across the A-frame for added stability. These diagonal pipes should be welded down to the bottom of the A-frame from the midpoint where the two main pipes meet.
Step 7: Final Details
To prevent corrosion, clean up any rough edges or excess welding material and paint the A-frame with a rust-resistant coating.
Your steel A-frame glass rack is now ready for use. Simply slide the glass panels into the crossbars and position the rack where you want it. This A-frame design provides a sturdy and stable foundation for storing glass panels and can be tailored to your specific requirements.
You can build a steel A-frame glass rack that will help you safely store and organize glass panels in your workspace or at home by following these simple steps. With basic welding skills and tools, you can complete this project in a few hours and have a functional and long-lasting glass rack.