The U arm for loading and unloading glasses
Views: 203 Author: zhongle Publish Time: 2023-06-07 Origin: Site Inquire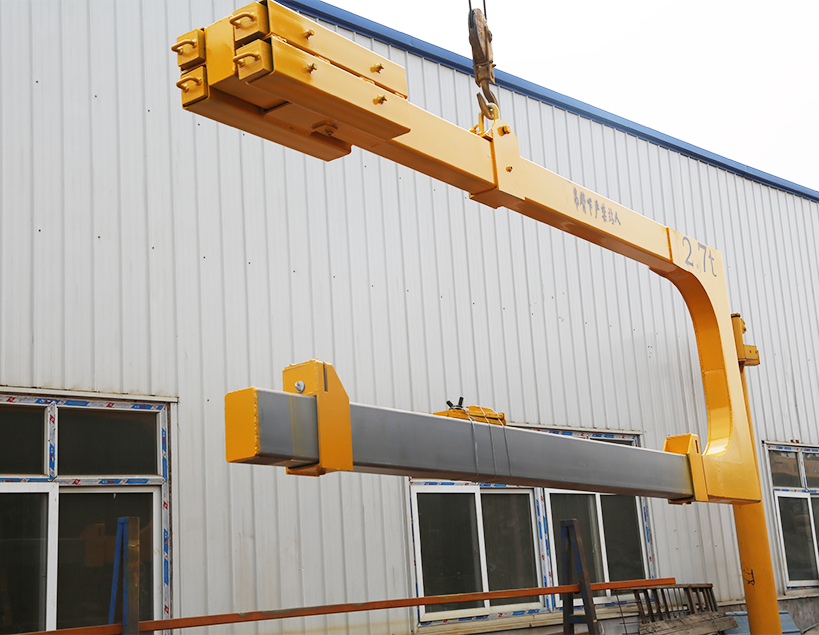 The following are the characteristics of the U arm for loading and unloading glasses:
One of the most significant advantages of this loading U-arm style is that it allows you to get as near to the sides of the container as possible, making unloading the goods much easier.
When not loaded, the loading U arm has an empty weight, and when loaded, the sum of both (empty weight + load) gives us the total weight. This whole load must be lifted by the crane where the loading U arm is mounted.
The U arm model B (empty weight 2.2 tons) is one of the most used in glass shops. In this example, lifting 2.7 tonnes of glasses requires a crane loading more than 5 tonnes to be able to be used in this sort of 2.2T loading U arm.
Why is the U arm a wise investment?
The U arm is a crane attachment used for lifting crated slabs of glass from closed-top containers as a crate extraction device. Designed to safely lift glass crates while increasing productivity and worker safety through improved load handling.
1. With an ingenious mechanical balance mechanism, this equipment can effortlessly lift tiny or large size glass, eliminating the need for coordination from a forklift truck and saving labor.
2. The equipment's slider is simple to operate; slid the block according to the glass size.
3. There is no damage to the glass or container, and because of the long arm length, there is no need to drag the glass cases throughout the operation; it is safe and dependable.
4. When combined with a crane, it can fully utilize the workplace.
5. It is not restricted to hardwood cases; it can also be used with glass with an iron cage and a matched glass sling.
6. Loading and unloading glass from a container is made easier with this glass container suspension arm. There is no need to drag the wooden cases by hand. And, with its U-shaped suspension arm, it is simple and safe to load a container with a closed top, eliminating the need to utilize an open-top container with higher maritime freight. It is low-cost, labor-saving, and highly efficient.
Use the U arm correctly
1. Do not stand beneath the U arm.
2. The maximum load of this U arm is not greater than 2700 kg.
3. Check the opening of the boom regularly to avoid metal fatigue.
4. Before hoisting the glass, ensure that the jib is balanced when unloaded.
5. Always inspect the welding junction and U-arm opening. It must be stopped and maintained if the welding connection is damaged or the opening is too large.
You can contact us for further information on the functions of these loading and unloading arms.